Wrestling Sucks.
In 2016, my husband came home from wrestling practice discouraged. He was an assistant coach for our High School wrestling team and the coaches had noticed that less and less youth were signing up. This got me thinking about how I could help encourage parents to sign their kids up for the sport. I sat down and typed out an article called "Why You Should Encourage Your Kid to Give Wrestling a Try". I posted it on my own little blog, where I mainly talk about faith-related topics. I also submitted it to IAWrestle, an awesome and reliable organization in Iowa that broadcasts everything wrestling. It went VIRAL. Hundreds, then thousands of people were sharing it. I couldn't believe it.
What amazed me most was that somehow "Wrestling Sucks" actually became a great argument for why kids should give wrestling a try. It resonated with people in a way I had hardly expected. My whole goal was to get kids in my own small town to sign up for wrestling. But it turned out that thousands of people across the country were looking for a way to articulate why people should give wrestling a try. And for whatever reason, highlighting how difficult it is and demonstrating why all that hard work is worth it was exactly the motivation that a lot of people needed. If you haven't read the article, you can find it here.
I decided to create these t-shirts for people to wear as a way to start the conversation with other people about why wrestling is so great. When people see a known wrestling fan wearing a t-shirt that says "wrestling sucks", they're naturally going to ask, "wait, I thought you loved wrestling. Why are you wearing a shirt that says it sucks?" Then you'll have the chance to explain: the fact that wrestling sucks is exactly why it's so great. All that hard work produces something enduring in an athlete that they carry with them.
Yes, wrestling is hard. Very. But so is life. And I can't think of a better way for my son to learn what it means to be tough and steadfast, to be fair, to own his mistakes, to see things through to the end, than this sport.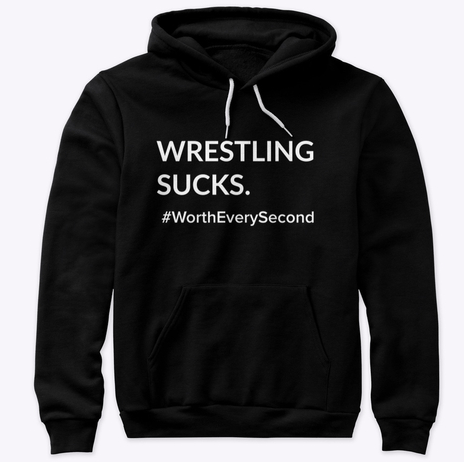 Orders are fulfilled via Teespring. Check out our other What the Mat designs as well in the shop.